Did you know UNC Health has Ranked #2 Most Trusted Healthcare Brand in the U.S.? The UNC Health brand was ranked as the #4 healthcare brand in the United States overall and the #2 most trusted healthcare brand, just after Johns Hopkins and before Mass General. Join our One-Great-Team!
Job Description
Description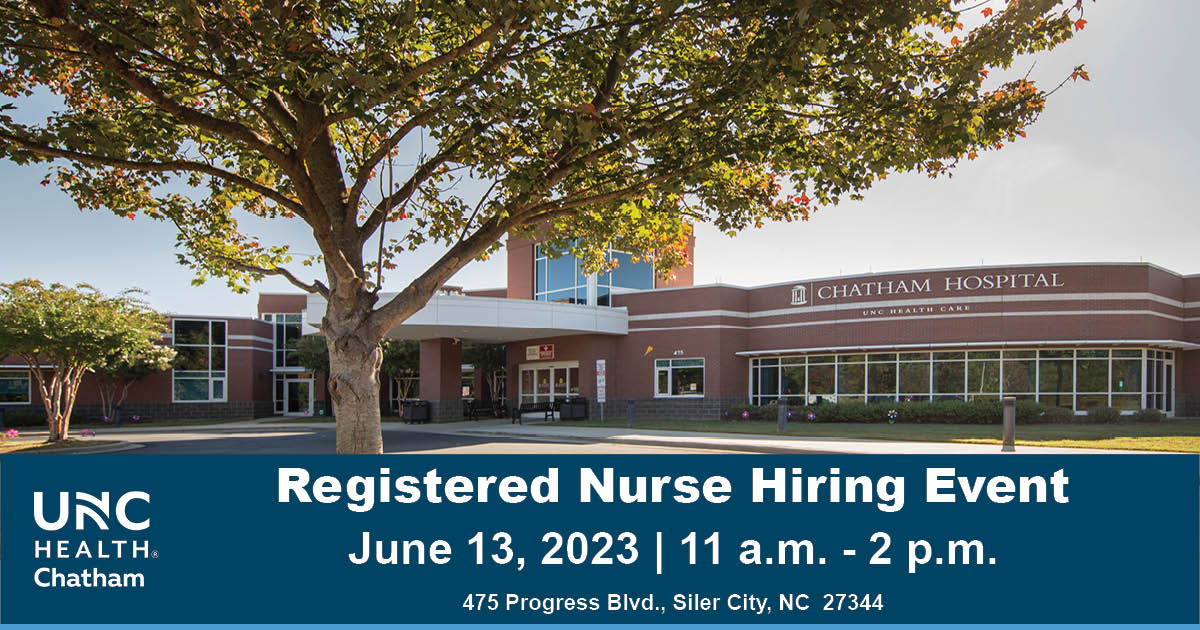 Become part of an inclusive organization with over 40,000 diverse employees, whose mission is to improve the health and well-being of the unique communities we serve.
Registered Nurse Hiring Event | UNC Health Chatham (6.13.23)
June 13, 2023 | 11:00 a.m. – 2:00 p.m.
Event location: UNC Health Chatham 475 Progress Blvd., Siler City, NC 27344
Experienced Registered Nurses are invited to join our One Great Team at UNC Health Chatham in the Medical/Surgical department in Siler City, NC!
We have both per diem and full-time opportunities available. Shifts options include evening and night shifts. At this event you will talk with Hiring Managers, explore the facility, interview for opportunities and maybe even walk away with a job offer! Enjoy free parking, being a part of our tight-knit team, and the great commitment incentives being offered!
Full-time positions are eligible for a $10,000 commitment incentive!
How do I qualify?
RN Clinical Nurse II: Graduation from a school of professional nursing. Licensed to practice as a Registered Nurse in the state of North Carolina. Basic Life Support (BLS) for Healthcare Provider certification. One (1) year of nursing experience.
How do I Participate?
Step 1: RSVP by selecting the "Apply Now" button at the top or bottom of this page.
Step 2: You will receive an email confirmation from Marrissa Jackson, which will contain additional event details and instructions.
Step 3: Join us during your scheduled interview time at UNC Health Chatham (enter through the Main Entrance) 475 Progress Blvd., Siler City, NC 27344. Walk-ins are also welcome! Don't forget to bring a mask and your resume.
Questions? Contact Recruiter Marrissa Jackson at [email protected]
Other Information
Job Details
Legal Employer: NCHEALTH
Entity: Chatham Hospital

Organization Unit: Talent Acquisition
Work Type: Full Time

Standard Hours Per Week: 36.00
Work Schedule: Variable
Location of Job: US:NC:Siler City
Exempt From Overtime: Exempt: No
Qualified applicants will be considered without regard to their race, color, religion, sex, sexual orientation, gender identity, national origin, disability, or status as a protected veteran.
UNC Health makes reasonable accommodations for applicants' and employees' religious practices and beliefs, as well as applicants and employees with disabilities. All interested applicants are invited to apply for career opportunities. Please email [email protected] if you need a reasonable accommodation to search and/or to apply for a career opportunity.