Did you know UNC Health has Ranked #2 Most Trusted Healthcare Brand in the U.S.? The UNC Health brand was ranked as the #4 healthcare brand in the United States overall and the #2 most trusted healthcare brand, just after Johns Hopkins and before Mass General. Join our One-Great-Team!
Job Description
Description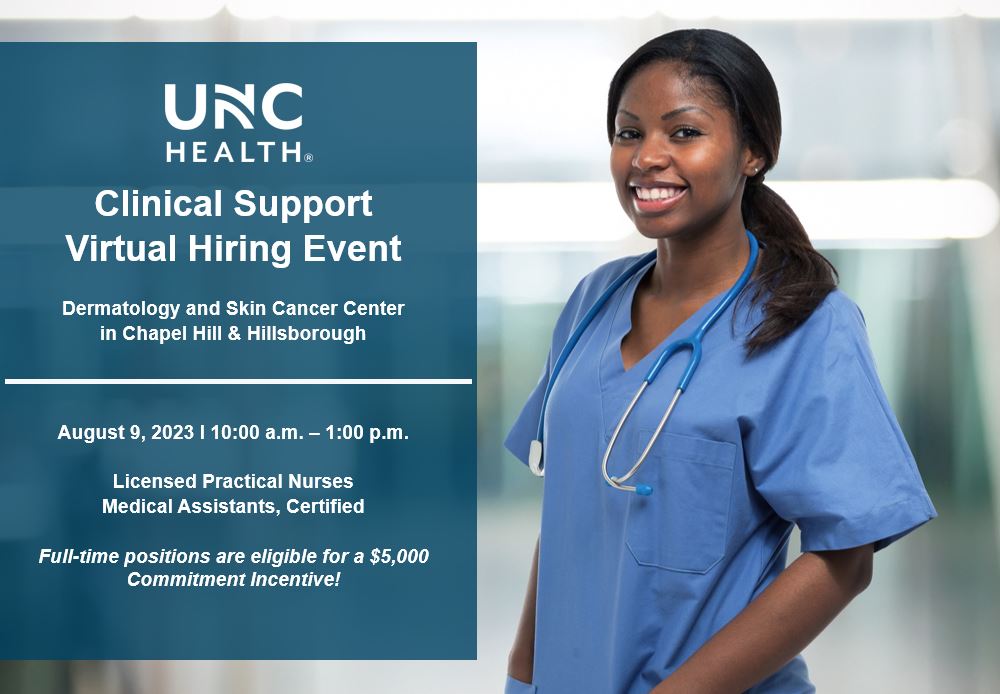 Become part of an inclusive organization with over 40,000 diverse employees, whose mission is to improve the health and well-being of the unique communities we serve.
Clinical Support Virtual Hiring Event
UNC Medical Center Dermatology and Skin Cancer Center
August 9, 2023 | 10 am - 1 pm
Hiring for: Chapel Hill and Hillsborough clinic locations.
UNC Medical Center Dermatology and Skin Cancer Center is hosting a virtual hiring/interview event for Medical Assistants, Certified (MAs) and Licensed Practical Nurses (LPNs) on August 9!
How do I Participate?
Step 1: Submit your application to this event. Select the "Apply Now". Once you submit your application, your event profile will be reviewed by our Talent Acquisition team.
Step 2: Upon qualifications review of your event application, our Talent Acquisition team will either give you a call directly or send you an email which is when you will receive the virtual conferencing link information.
Step 3: At the time of the event, visit virtual conferencing link provided by your recruiter to speak with our hiring managers directly.
How do I qualify for this event?
Medical Assistant, Certified:
Requires high school diploma or GED.
Completion of a Medical Assisting program accredited by either the Commission on Accreditation of Allied Health Education Programs (CAAHEP) or the Accreditation Bureau of Health Education Schools (ABHES) is strongly preferred but not required.
Requires Medical Assistant certification by either the American Association of Medical Assistants (AAMA), American Medical Technologists (AMT), National Health Career Association (CCMA), National Association of Health Professionals (NRCMA), or National Center for Competency Testing (NCMA).
Prefer candidates with current Basic Life Support Certification from American Heart Association at the time of hire. If selected candidate does not possess BLS, one must be obtained within 30 days of hire.
Prior medical assistant or medical assistant externship experience preferred.
Licensed Practical Nurse (LPN):
Requires graduation from a state accredited program of practical nurse education including a pharmacology course (or completion of an approved pharmacology course upon graduation) which provides the knowledge, skills and abilities needed for the administration of medications required by the work setting.
Licensed to practice as a Practical Nurse (LPN) in the applicable state (NC or VA).
No prior experience required.
Join our One Great Team and explore all that UNC Health and North Carolina have to offer!
Questions? Contact Recruiter Maria Nunez by emailing [email protected] .
Other Information
Job Details
Legal Employer: STATE
Entity: UNC Faculty Physicians

Organization Unit: Talent Acquisition
Work Type: Full Time

Standard Hours Per Week: 40.00
Work Schedule: Day Job
Location of Job: US:NC:Chapel Hill
Exempt From Overtime: Exempt: No
Qualified applicants will be considered without regard to their race, color, religion, sex, sexual orientation, gender identity, national origin, disability, or status as a protected veteran.
UNC Health makes reasonable accommodations for applicants' and employees' religious practices and beliefs, as well as applicants and employees with disabilities. All interested applicants are invited to apply for career opportunities. Please email [email protected] if you need a reasonable accommodation to search and/or to apply for a career opportunity.