Did you know UNC Health has Ranked #2 Most Trusted Healthcare Brand in the U.S.? The UNC Health brand was ranked as the #4 healthcare brand in the United States overall and the #2 most trusted healthcare brand, just after Johns Hopkins and before Mass General. Join our One-Great-Team!
Job Description
Description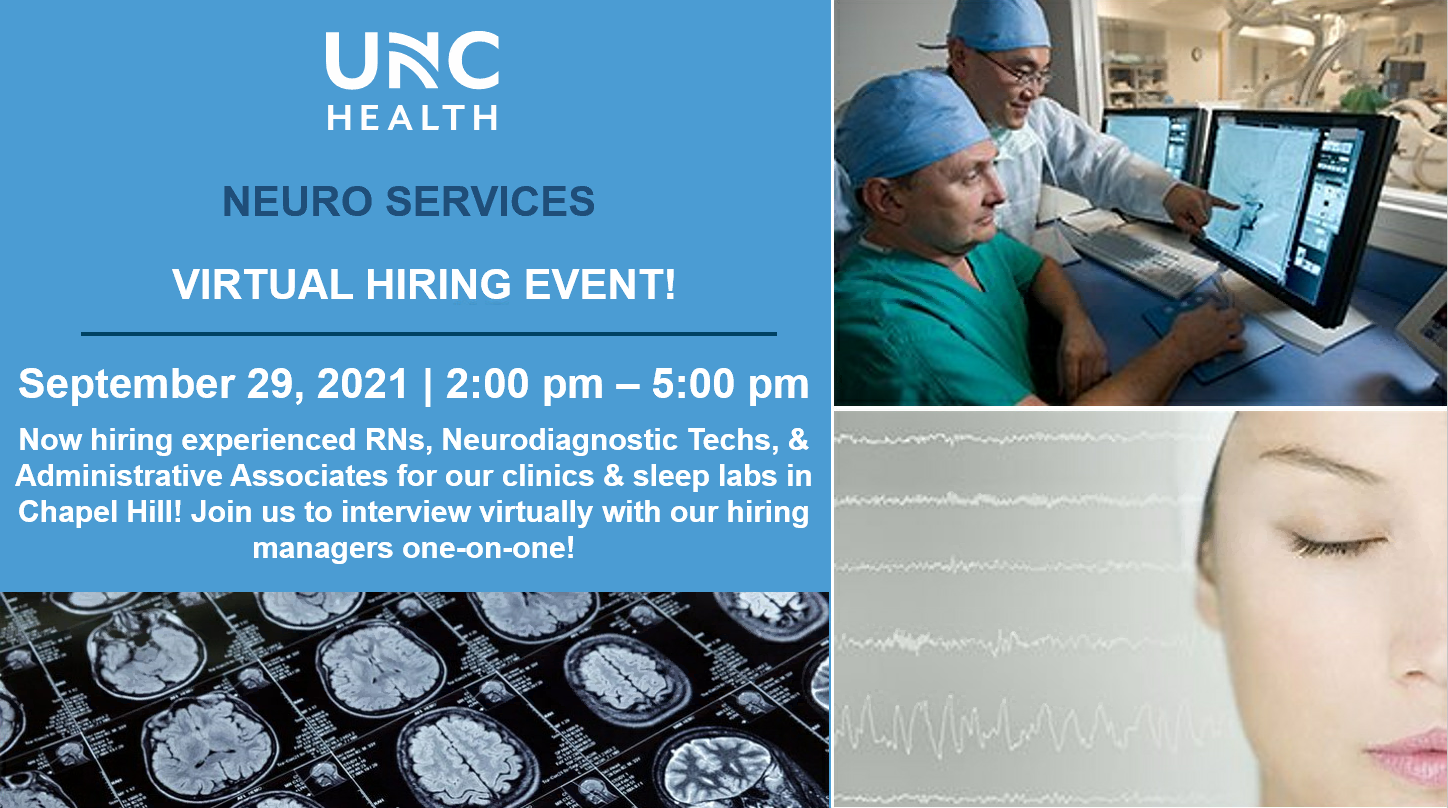 Neuro Services Virtual Hiring Event! | Chapel Hill Clinics & Sleep Labs

September 29, 2021 | 2:00 pm – 5:00 pm
*Interviews will be held virtually over phone or webcam
Become part of an inclusive organization with over 40,000 diverse employees, whose mission is to improve the health and well-being of the unique communities we serve.

UNC Health is excited to be hosting a virtual hiring event for our Neuro service line! We will be hiring experienced RNs, Neurodiagnostic Techs, and Administrative Associates for our Chapel Hill outpatient clinic and sleep lab locations.
You will have the opportunity to interview virtually one-on-one with our Neuro services hiring teams!
UNC Health's neurology group provides expert consultation and specialty care for both adults and children through our many clinics and centers. Our interdisciplinary teams include more than 30 neurologists who have comprehensive knowledge across a wide range of subspecialties. The group also actively pursues many clinical trials, striving to develop and implement new treatments for neurological disorders.
How do I participate in the virtual hiring event?
*To be considered for this virtual interview event, please select "Apply Now" to submit your event application. Qualified applicants will be reached via phone to conduct an initial phone screening and virtual interviews will be scheduled on an invite slot basis. Interviews will be scheduled to take place on September 29, 2021 between 2pm - 5pm. The last day to apply for this event will be September 27, 2021.
Nursing Questions? Please contact our Nurse Recruiter, Mandy Brown at [email protected]
Neurodiagnostic Tech Questions? Please contact our Recruiter, Sabrina Little at [email protected]