Did you know UNC Health has Ranked #2 Most Trusted Healthcare Brand in the U.S.? The UNC Health brand was ranked as the #4 healthcare brand in the United States overall and the #2 most trusted healthcare brand, just after Johns Hopkins and before Mass General. Join our One-Great-Team!
Job Description
Description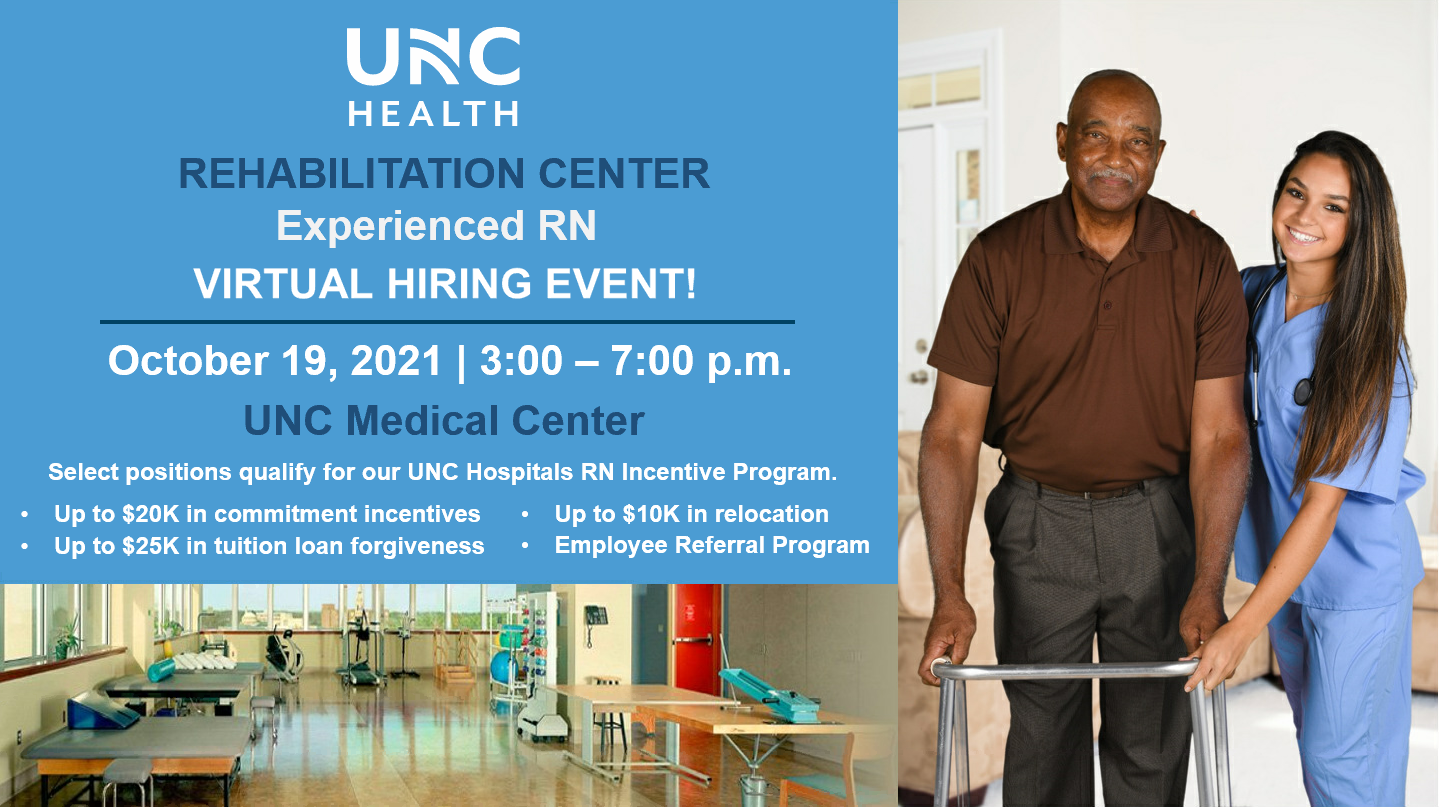 Rehabilitation Center Experienced RN Virtual Interview Event | UNC Medical Center – Chapel Hill campus.

October 19, 2021 | 3:00 p.m. – 7:00 p.m.
We're hiring full-time experienced RN's.
The UNC Rehabilitation Center is a 30-bed inpatient rehabilitation facility located within UNC Medical Center in Chapel Hill, NC. We are accredited by the Commission on Accreditation of Rehabilitation Facilities (CARF) for the rehab care of adults, children and adolescents, and stroke specialty.

In February of 2022, the Rehabilitation Center will be moving into the newly-constructed Tower 2 at UNC Hospitals Hillsborough Campus! You can view a video of our new location here: https://vimeo.com/596082995

Become part of an inclusive organization with nearly 40,000 diverse employees, whose mission is to improve the health and well-being of the unique communities we serve.
Summary:
Provides competent clinical nursing care consistent with professional standards. Reporting and accountable to the Nurse Manager/Director, the Clinical Nurse is responsible for coordinating and delivering patient care utilizing the nursing process in a hospital setting.
Select positions qualify for our UNC Hospitals RN Incentive Program, which includes up to $25,000 in commitment incentives or up to $25,000 in tuition loan forgiveness. In addition, this position is also eligible for up to $10,000 in relocation assistance (based on location) and our employee referral program. Learn more about our UNC Hospitals RN Incentive Program here: https://jobs.unchealthcare.org/pages/unc-hospitals-nurse-incentive-program

*State of North Carolina Benefits are available for qualified candidates.
Our employees qualify for an extensive benefit package through the State of North Carolina, including Paid Time Off (PTO) hours accrued and rollover, academic assistance, and State of North Carolina retirement.
We would like to invite you to apply for an opportunity to interview with us during our interview day at UNC Hospitals!
How do I Participate?
Step 1: Submit your application to this requisition by selecting the "Apply Now" button at the top or bottom of this page. Once you submit your application, your event profile will be reviewed by our Talent Acquisition team.
Step 2: Upon qualifications, review, and selection of your event application, our Talent Acquisition team will contact you directly regarding the RN opportunities and interview slots for the day of the event.
*To be considered for this virtual interview event day, please submit your application to this requisition. Qualified applicants will be reached via phone to conduct an initial phone screening and interviews will be scheduled on an invite-only basis. Interviews will be scheduled to take place on October 19, 2021 between 3:00 p.m. and 7:00 p.m. The last day to apply for this event will be October 15, 2021.
How do I qualify?
Education Requirements:
·Graduation from a school of professional nursing.
·If hired after January 6, 2014, must be enrolled within four years of employment, and obtain a Bachelor's degree with a major in Nursing or a Master's degree with a major in Nursing within seven years of employment date.
Licensure/Certification Requirements:
·Licensed to practice as a Registered Nurse in the state of North Carolina.
·Basic Life Support (BLS) for Healthcare Provider certification
Professional Experience Requirements:
·One (1) year of nursing experience.
For questions, please contact our recruiter Mandy Brown at [email protected]
Other Information
Job Details
Legal Employer: STATE
Entity: UNC Medical Center

Organization Unit: Talent Acquisition
Work Type: Full Time

Standard Hours Per Week: 36.00
Work Schedule: Variable
Location of Job: US:NC:Chapel Hill
Exempt From Overtime: Exempt: No