Did you know UNC Health has Ranked #2 Most Trusted Healthcare Brand in the U.S.? The UNC Health brand was ranked as the #4 healthcare brand in the United States overall and the #2 most trusted healthcare brand, just after Johns Hopkins and before Mass General. Join our One-Great-Team!
Job Description
Description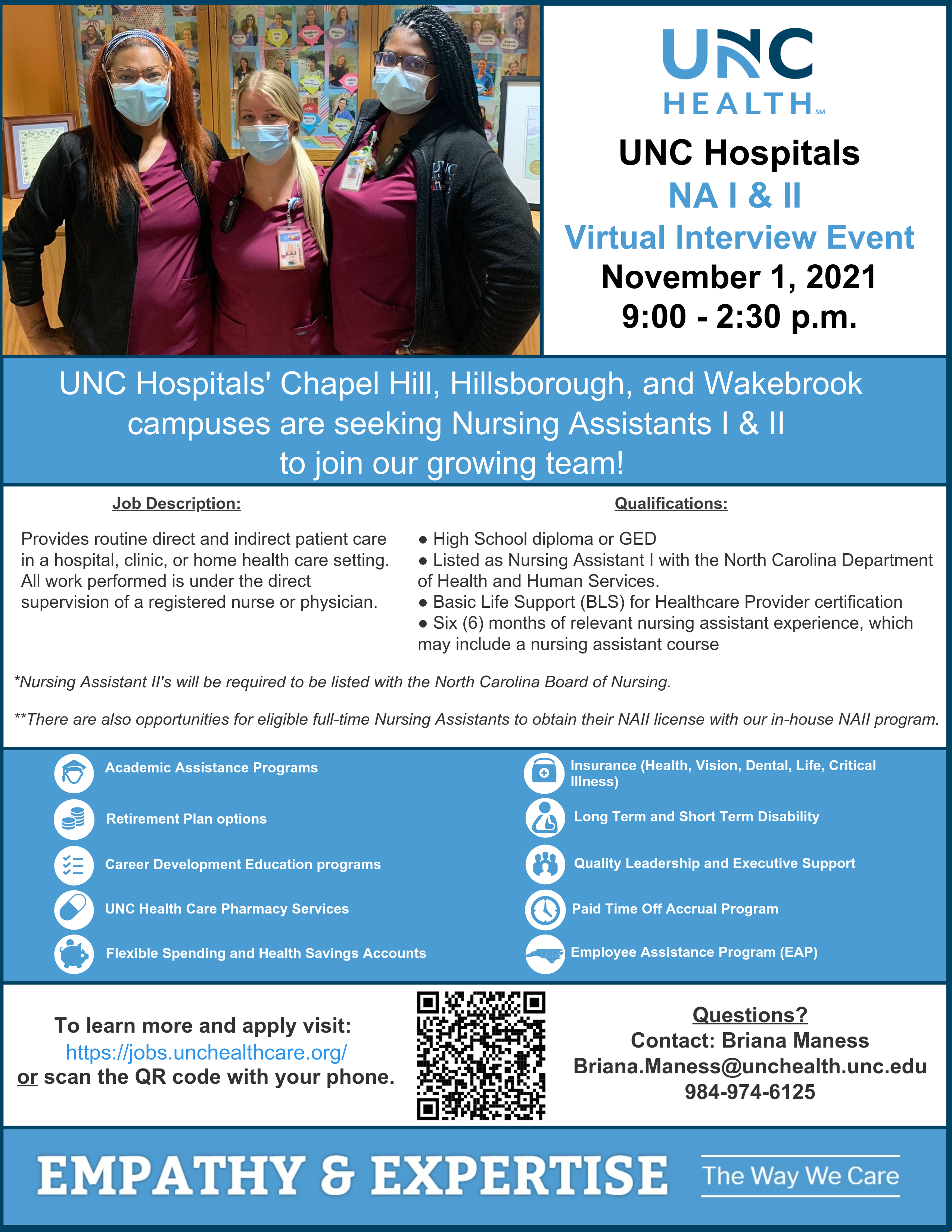 Nursing Assistant I & II Virtual Hiring Event | UNC Hospitals – Chapel Hill, Hillsborough, and Wakebrook campuses.
November 1, 2021 | 9:00 am - 2:30 pm
*We're hiring full-time, part-time, and per diem Nursing Assistants I & II.

Become part of an inclusive organization with nearly 40,000 diverse employees, whose mission is to improve the health and well-being of the unique communities we serve.
Summary:
Provides routine direct and indirect patient care in a hospital, clinic or home health care setting. All work performed is under the direct supervision of a registered nurse or physician.
Participating service lines hiring NA I & II's:
·Children's
·Emergency
·Float Pool
·Heart & Vascular
·Medicine
·Oncology
·Perioperative
·Psychiatry
·Surgery
·Women's
*State of North Carolina Benefits are available for qualified candidates.
Our employees qualify for an extensive benefit package through the State of North Carolina, including Paid Time Off (PTO) hours accrued and rollover, academic assistance, and State of North Carolina retirement.
We would like to invite you to apply for an opportunity to interview with us during our interview day at UNC Hospitals!
How do I Participate?
Step 1: Submit your application to this requisition by selecting the "Apply Now" button at the top or bottom of this page. Once you submit your application, your event profile will be reviewed by our Nurse Employment team.
Step 2: Upon qualifications, review, and selection of your event application, our Nurse Employment team will contact you directly regarding the NA opportunities and interview slots.
*To be considered for this virtual interview event, please submit your application to this requisition. Qualified applicants will be reached via phone to conduct an initial phone screening and interviews will be scheduled on an invite-only basis. Interviews will be scheduled to take place on, or before, November 1, 2021. The last day to apply for this event will be Sunday, October 31, 2021.
How do I qualify?
·High School diploma or GED
·Listed as Nursing Assistant I with the North Carolina Department of Health and Human Services.
·Basic Life Support (BLS) for Healthcare Provider certification
·Six (6) months of relevant nursing assistant experience, which may include a nursing assistant course
·Fluent in verbal and written English language and able to develop basic computer skills.
For questions, please contact our recruiter Briana Maness at [email protected]
*UNC Health is proud to be an Equal Opportunity Employer*