Did you know UNC Health has Ranked #2 Most Trusted Healthcare Brand in the U.S.? The UNC Health brand was ranked as the #4 healthcare brand in the United States overall and the #2 most trusted healthcare brand, just after Johns Hopkins and before Mass General. Join our One-Great-Team!
Job Description
Description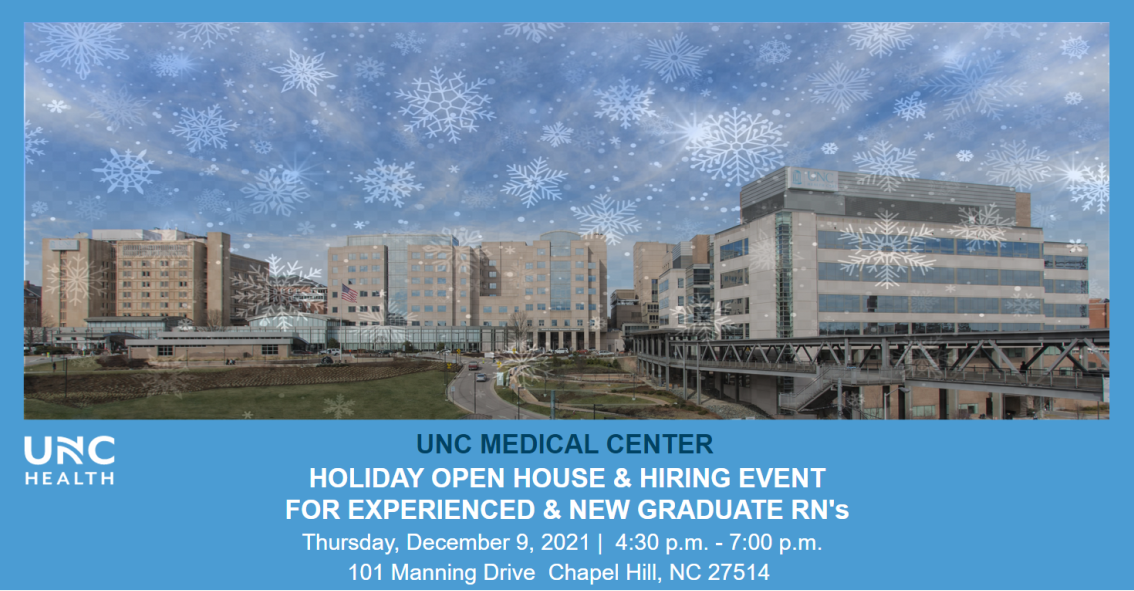 Holiday Open House & Hiring Event for Experienced & New Graduate RN's | UNC Hospitals – Chapel Hill
December 9, 2021 | 4:30 p.m. – 7:00 p.m.
UNC Medical Center - 101 Manning Drive, Chapel Hill, NC 27514 - Event to be held in the Cancer Hospital
Parking available across from the hospital in the Dogwood Deck (Visitor/Public Parking) and will be reimbursed at registration.

We're hiring experienced Registered Nurses (RN) and New Graduate Nurses.
Registered Nurses (RN) will have at least one year of clinical nursing experience for full time, part time and per diem staff to join our team at the UNC Medical Center in Chapel Hill.
New Graduate Nurses are those who have recently graduated from nursing school within the past 12 months or are anticipating graduation by the Spring of 2022. It is expected that candidates will have their North Carolina RN license prior to their start date.
Meet with our recruiters, talk to current UNC Health nurses, tour nursing units, interview with our nursing hiring managers and leave with a potential offer of employment. Don't forget to bring a mask and your resume! Walk ins are welcome!
Positions are available in Carolina Air Care, Clinics, ED, Flex Team, Heart & Vascular, ICU/Stepdowns, Med/Surg, Oncology, OR (Adult/Peds), PACU, Pediatrics, Procedural Areas, Psychiatry, Rehab and Women's specialties.
Select Experienced RN positions qualify for our UNC Hospitals RN Incentive Program, which includes up to $20,000 in commitment incentives or up to $25,000 in tuition loan forgiveness. In addition, this position is also eligible for up to $10,000 in relocation assistance (based on location) and our employee referral program. Learn more about our UNC Hospitals RN Incentive Program here: https://jobs.unchealthcare.org/pages/unc-hospitals-nurse-incentive-program and our Congenital Heart Program and Operating Room Incentive Program here: https://jobs.unchealthcare.org/pages/chp-or-incentive
*State of North Carolina Benefits are available for qualified candidates.
Our employees qualify for an extensive benefit package through the State of North Carolina, including Paid Time Off (PTO) hours accrued and rollover, academic assistance, and State of North Carolina retirement.
Experienced RN Qualifications:
Requires graduation from a state-accredited school of professional nursing and one year of nursing experience. Must be licensed to practice as a registered nurse in the State of North Carolina by the NC Board of Nursing at time of hire.
If hired after January 6, 2014, must be enrolled in an accredited program within four years of employment, and obtain a Bachelor's degree with a major in Nursing or a Master's degree with a major in Nursing within seven years of employment date.
Basic Life Support (BLS) for Healthcare Provider certification
New Graduate RN Qualifications:
Requires graduation from a state-accredited school of professional nursing. Must be licensed to practice as a registered nurse in the State of North Carolina by the NC Board of Nursing at time of hire.
If hired after January 6, 2014, must be enrolled in an accredited program within four years of employment, and obtain a Bachelor's degree with a major in Nursing or a Master's degree with a major in Nursing within seven years of employment date.
Basic Life Support (BLS) for Healthcare Provider certification