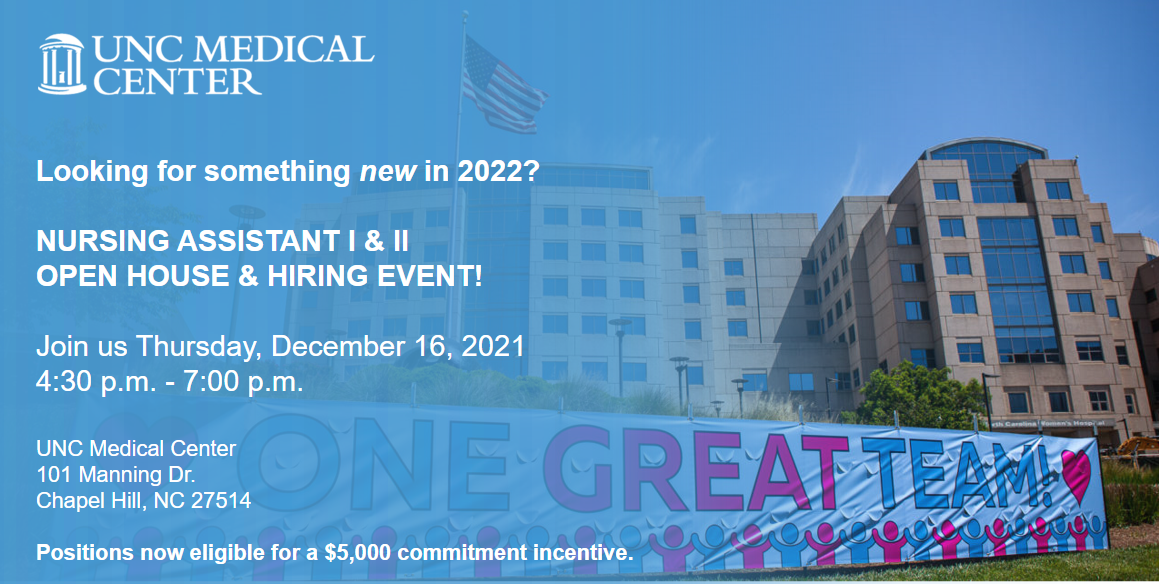 UNC Medical Center Nursing Assistant Open House & Hiring Event
Thursday, December 16, 2021 | 4:30 p.m. – 7:00 p.m.
UNC Medical Center | 101 Manning Drive, Chapel Hill, NC 27514 | Event to be held in the Cancer Hospital
Parking available across from the hospital in the Dogwood Deck (Visitor/Public Parking) and will be reimbursed at registration.

We're hiring Nursing Assistant I's and II's to join our teams at the UNC Medical Center in Chapel Hill! Meet with our recruiters, talk to current UNC Health staff, tour various units, interview with our hiring managers and leave with a potential offer of employment. Walk ins are welcome! Don't forget to bring a mask and your resume! Full time, part time and per diem positions are available in ED, Float Pool, Heart & Vascular, ICU/Stepdowns, Med/Surg, Oncology, OR (Adult/Peds), PACU, Pediatrics, Psychiatry and Women's specialties.
Select positions qualify for our Nursing Support Incentive Program, which offers a $5,000 incentive over a 3 year commitment! Learn more about the program here: https://jobs.unchealthcare.org/pages/unc-hospitals-unc-rex-nursing-support-incentive-program
*State of North Carolina Benefits are available for qualified candidates.
Our employees qualify for an extensive benefit package through the State of North Carolina, including Paid Time Off (PTO) hours accrued and rollover, academic assistance, and State of North Carolina retirement.
Qualifications:
Nursing Assistant I:

High school diploma or GED
Listed as a Nursing Assistant I with the North Carolina Department of Health and Human Services
Basic Life Support (BLS) for health care provider certification
Six (6) months of relevant nursing assistant experience, which may include a nursing assistant course
Fluent in verbal and written English language and able to develop basic computer skills
Nursing Assistant II:
High school diploma or GED
Listed as a Nursing Assistant II with the North Carolina Department of Health and Human Services
Basic Life Support (BLS) for health care provider certification
Six (6) months of relevant nursing assistant experience, which may include a nursing assistant course
Fluent in verbal and written English language and able to develop basic computer skills