Did you know UNC Health has Ranked #2 Most Trusted Healthcare Brand in the U.S.? The UNC Health brand was ranked as the #4 healthcare brand in the United States overall and the #2 most trusted healthcare brand, just after Johns Hopkins and before Mass General. Join our One-Great-Team!
Job Description
Description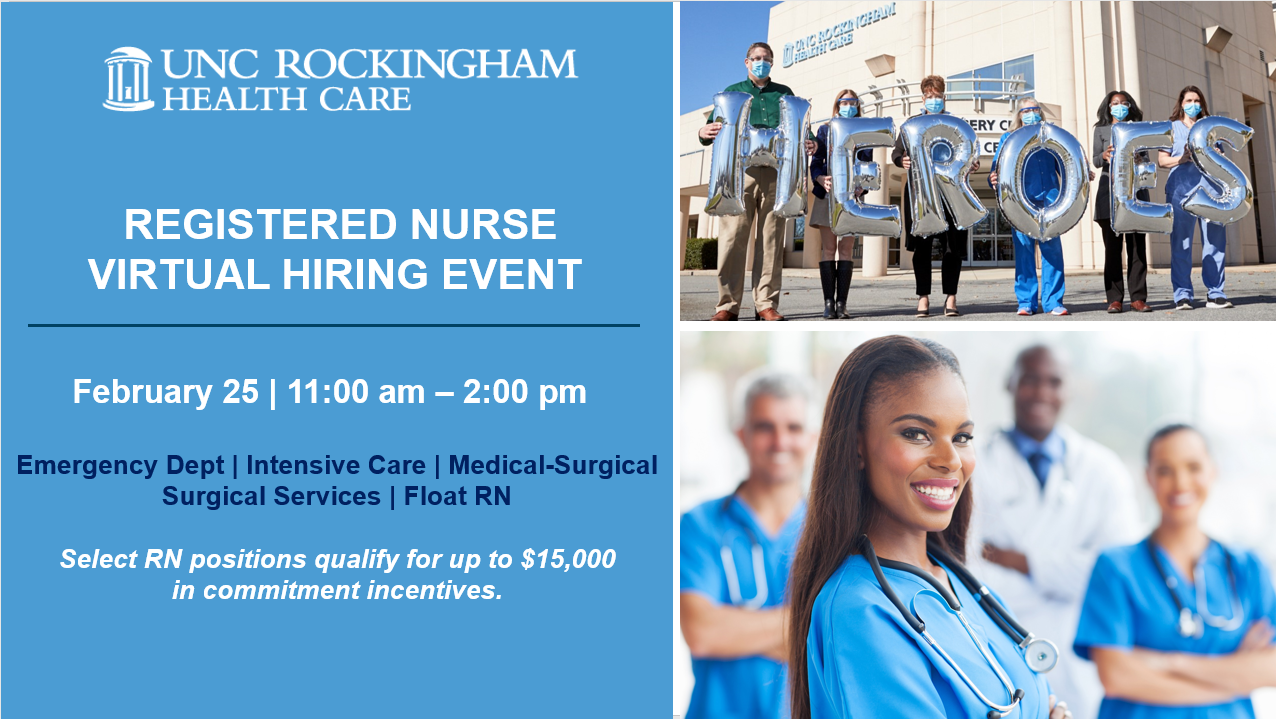 RN Virtual Hiring Event | UNC Rockingham Health Care
Friday, February 25, 2022 | 11:00 a.m. - 2:00 p.m.
UNC Rockingham Health Care in Eden, NC is now hiring! There are several RN opportunities available with several shift options, including:
Emergency Department - Several mid and overnight positions are available. Mid shifts consist of 7a - 7p, 9a - 9p, 11a - 11p, and 3p - 3a
Intensive Care Unit - All shifts
Medical-Surgical – All shifts
Surgical Services - Day shift
Float RN position (Rockingham and Chatham)
Select RN positions qualify for our UNC Rockingham Health Care RN Incentive Program, which includes up to $15,000 commitment incentive. Learn more about our Incentive Program here:
https://jobs.unchealthcare.org/pages/unc-rockingham-certified-nurse-assistant-incentive-program-skilled-nursing-facility
How do I qualify for the virtual hiring event?
RN Staff Nurse Requirements:
Bachelor's degree (BSN) from an accredited School of Nursing preferred
RN license in North Carolina, or compact state
BLS, ACLS, PALS, CPI certification (may be obtained within the first 60 days of employment
How do I participate in the virtual hiring event?
*To be considered for this virtual hiring/interview event, please submit your event application to this requisition by selecting "Apply Now". Qualified applicants will be reached via phone to conduct an initial phone screening and virtual interviews will be scheduled on an invite basis. Interviews will be scheduled to take place on Friday, February 25, 2022 between 11:00 a.m. and 2:00 p.m. The last day to apply for this event will be Wednesday, February 23, 2022.
Have questions? Please email our recruiter, Neha Mishra, at [email protected]