Did you know UNC Health has Ranked #2 Most Trusted Healthcare Brand in the U.S.? The UNC Health brand was ranked as the #4 healthcare brand in the United States overall and the #2 most trusted healthcare brand, just after Johns Hopkins and before Mass General. Join our One-Great-Team!
Job Description
Description
Become part of an inclusive organization with over 40,000 diverse employees, whose mission is to improve the health and well-being of the unique communities we serve.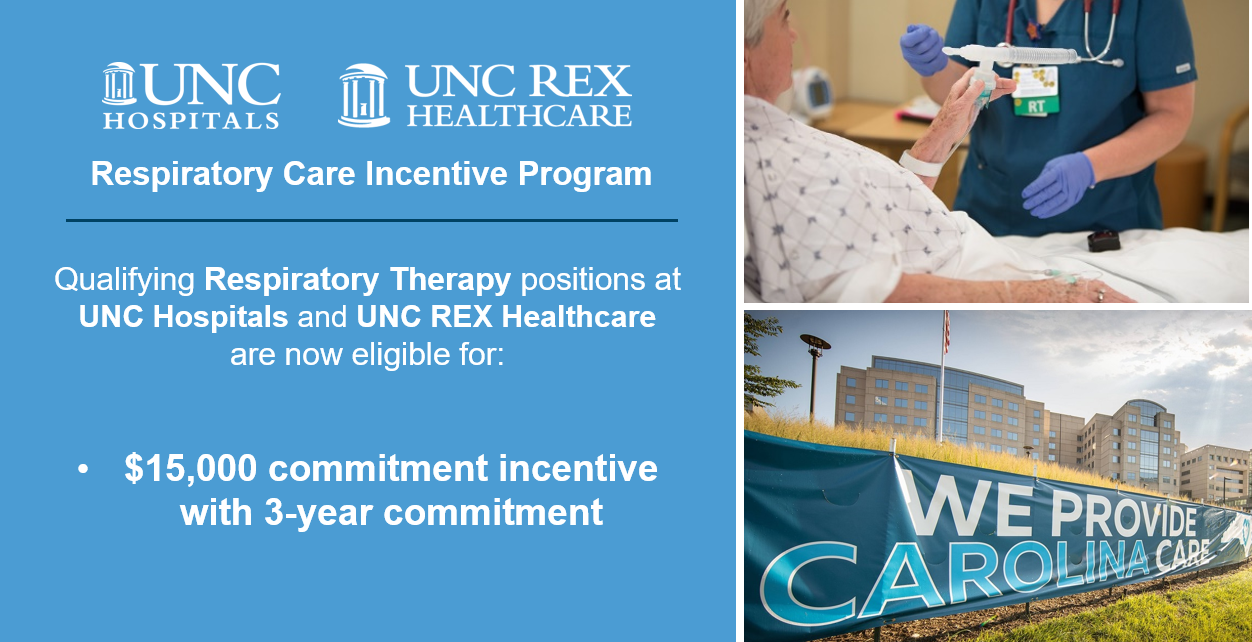 * Position qualifies for our Inpatient Respiratory Care Incentive Program, which includes a $15,000 commitment incentive with a three (3) year commitment. To learn more on the program, please visit:https://jobs.unchealthcare.org/pages/unc-hospitals-unc-rex-healthcare-respiratory-care-incentive-program

Summary:
Under the direction of department management and according to policies and procedures as defined in the Department Policy and Procedure Manuals, the Respiratory Therapist, Senior demonstrates an advanced level of knowledge in respiratory care and assigned patient care areas. The Respiratory Therapist II administers competent care of patients through airway management, mechanical ventilator management, oxygen therapy, aerosol therapy, respiratory care procedures and treatments designed to assess, prevent, stabilize or remedy patients respiratory dysfunction.
Additionally as a member of the Pediatric Transport Team will function under the direction of UNC Carolina Air Care (CAC) Air Care Protocol / management and according to policies and procedures as defined in the Department Policy and Procedure Manuals, administers respiratory care procedures and treatments designed to assess, prevent, stabilize or remedy patients respiratory dysfunction. After completion of orientation, functions independently with minimal supervision. Prefer three years minimum experience and five years respiratory therapy experience in neonatal or pediatric ICU settings. Will need current certification in BLS, PALS, NRP and ACLS plus trauma certification.
This is a 36 hour per week full time position with Carolina Air Care Pediatric/Neonatal Critical Care Transport Team. This position requires rotating shifts (both 12 and 24 hour shifts) and the work environment is aircraft and ground ambulance with some time spent outdoors. Must be able to work in the environment without restrictions and meet weight restrictions for rotor wing/helicopter less than or equal to 225 pounds and fixed wing/jet less than or equal to 270 pounds in uniform or flight gear for air craft safety protocols.
Responsibilities:
1. Administers standard Respiratory Care including but not limited to, aerosol medication delivery, basic bedside pulmonary function testing, breathing exercises, oxygen therapy, and arterial punctures. Provides for all aspects of airway management including aspiration of established airways, tracheostomy care, tracheostomy tube changes, endotracheal intubations and extubations. May perform Pulmonary Function Testing as needed.
2. Carolina Air Care - When working with Carolina Air Care may Transport pediatric and neonatal patients from referral hospitals per UNC Air Care Protocol. May perform respiratory care and advanced practice procedures per UNC Air Care Protocol. These procedures include UAC, UVC, IV insertion, intraoaaeous insertion, Chest Tube insertion, Needle Decompression, ABG's, Blood Glucose monitoring, and others as deemed necessary by the medical control officer.
3. ECMO - When working with ECMO may manage the Extracorporeal circulation for cardiac and respiratory support of patients.
4. May be required to be on-call days, nights, weekends and holidays.
5. May Perform all aspects of ventilator care to include, but not limited to setting up the ventilator and verifying function using specialized ventilator modes to manage the patients disease process. Provide for an appropriate monitoring of these patients and provide appropriate weaning techniques.
6. Maintains and improves job knowledge and skills. Functions independently with minimal supervision. Serves as resource to other staff reflective of experience level
Other Information
Other information:
Education Requirements:
● Graduation from an accredited Respiratory Therapy program.
Licensure/Certification Requirements:
● Licensed as a Respiratory Care Practitioner by the North Carolina Respiratory Care Board. Must be registered (RRT) by the National Board of Respiratory Care. BLS on hire. Must have either ACLS-Adults, NRP – NICU, PALS – PICU/Rex, CPFT – PFT, Advanced Practice certificate to administer moderate sedation in the Bronchoscopy Lab. Must maintain certification annually.
Professional Experience Requirements:
● Two (2) years of experience as a Respiratory Therapist
Knowledge/Skills/and Abilities Requirements:
● Ability to read, analyze, and interpret clinical information and technical procedures. Ability to document clinical information. Ability to effectively communicate information and respond to questions from patients, physicians, family members, and other staff. Mathematical Skills: Ability to apply concepts such as fractions, percentages, ratios, and proportions to practical situations. Reasoning Ability: Ability to define problems, collect data, establish facts, and draw valid conclusions. Ability to interpret an extensive variety of technical situations.

Job Details
Legal Employer: STATE
Entity: UNC Medical Center

Organization Unit: RDU Ground
Work Type: Full Time

Standard Hours Per Week: 36.00
Work Schedule: Variable
Location of Job: US:NC:Chapel Hill
Exempt From Overtime: Exempt: No