Did you know UNC Health has Ranked #2 Most Trusted Healthcare Brand in the U.S.? The UNC Health brand was ranked as the #4 healthcare brand in the United States overall and the #2 most trusted healthcare brand, just after Johns Hopkins and before Mass General. Join our One-Great-Team!
Job Description
Description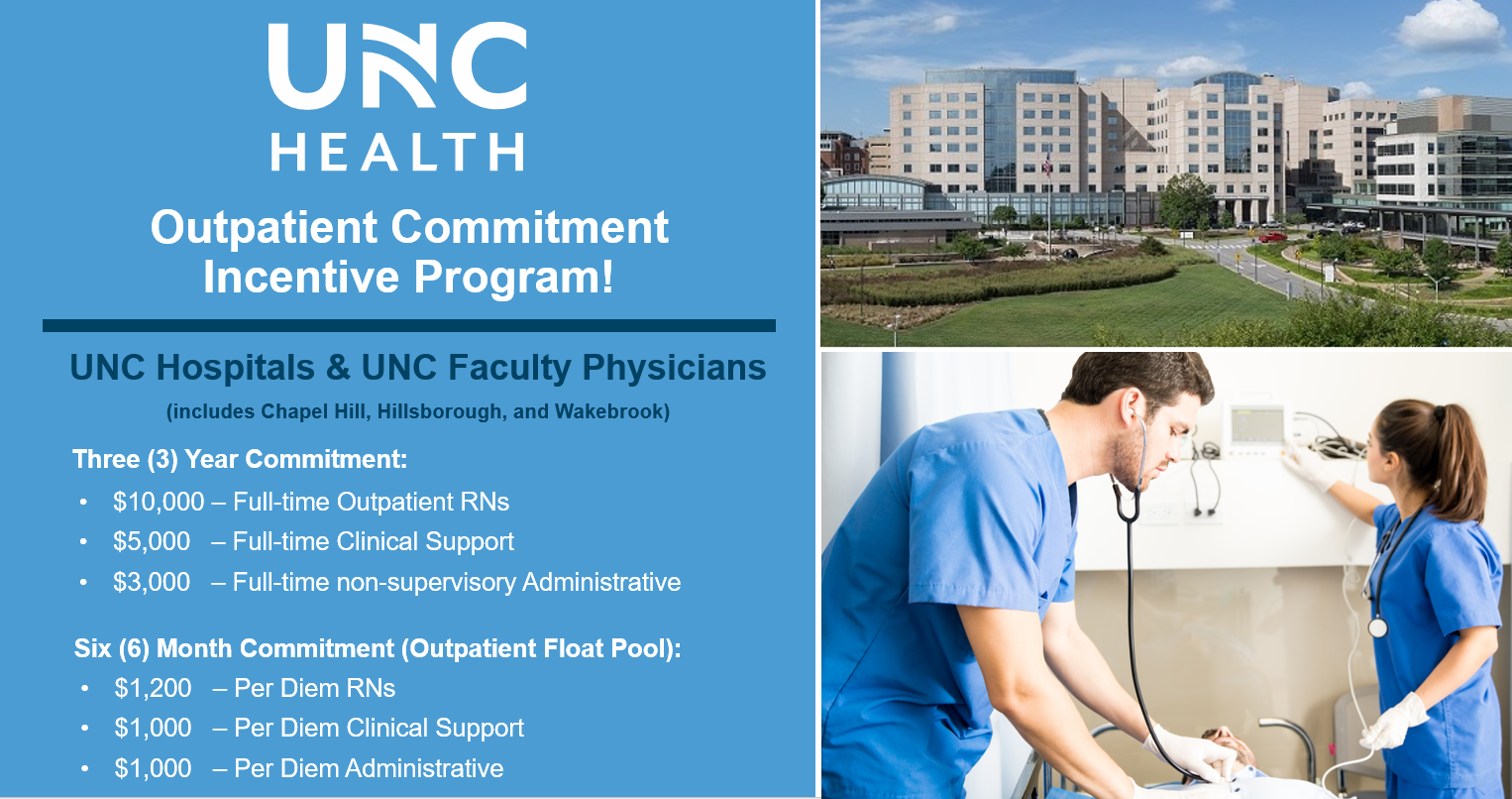 *This position qualifies for our UNC Hospitals RN Incentive Program, which includes $10,000 for a 3 year commitment. In addition, this position is also eligible for up to $10,000 in relocation assistance (based on location) and our employee referral program. Learn more about our UNC Hospitals RN Incentive Program here: https://jobs.unchealthcare.org/pages/unc-medical-center-unc-faculty-physicians-outpatient-commitment-incentive-program
RN Oncology Nurse Navigator-Breast Cancer Navigation
We are seeking a responsible, self-motivated individual to join our UNC Cancer team as a Nurse Navigator!
In this role, you will be a vital member of the patient's interdisciplinary team guiding them through their cancer care journey.
Position detail:
This position offers the flexibility of a hybrid schedule consisting of a combination of remote and in-person responsibilities. The Nurse Navigator role is a salaried position, working 40 hours per week, Monday-Friday. As a State employee, this position offers many appealing State benefits including health & retirement plans as well as generous PTO accruals.
Seeking:
An experienced RN is needed to facilitate the treatment plan and help to navigate the oncology patient from diagnosis through treatment to survivorship or end of life.
Essential Functions:
• An oncology nurse navigator (ONN) is a professional Registered Nurse with oncology-specific clinical knowledge who offers individualized assistance to patients, families, and caregivers as a guide through the healthcare system.
• The navigator provides education and resources to facilitate informed decision making and timely access to quality health and psychosocial care throughout all phases of the cancer continuum.
• In addition to facilitating timely complex coordination of appointments, diagnostic testing and procedures, the navigator is responsible for identifying potential and realized challenges with care and facilitating referrals as appropriate to mitigate barriers and expedite the plan of care.
• The ONN assesses patients' current health practices, identifies health problems, determines the degree of compliance and problems complying with the prescribed treatment plan, and provides appropriate documentation.
• By analyzing data from patient interviews, chart reviews, and physical assessments, the ONN helps to determine individualized nursing care needs including direct care and referral for additional departments/physicians for new and ongoing management.
Skills/Qualifications:
Navigators must be compassionate while possessing excellent verbal and written communication, strong organizational/prioritization skills as well as the ability to work both autonomously and collaboratively with healthcare teams. Basic working knowledge of managed care, insurance coverage, procedures, and community resources is preferred, but can be learned. Prior Epic experience is helpful, but not required.
Become part of an inclusive organization with over 40,000 diverse employees, whose mission is to improve the health and well-being of the unique communities we serve.

Summary:
Each patient has an assigned nurse navigator to oversee their diagnosis and treatment, help them get their needs met, and serve as their personal resource. The specific purpose of the nurse navigator is 1) to expedite and facilitate access to initial and ongoing care in our system, 2) to personalize the care our patients receive, 3) to provide a single gateway for our patients to minimize confusion over communication and 4) to provide a consistent contact for our patients from diagnosis to survivorship. The nurse navigator is patient-oriented, not physician or division specific, and will facilitate care of the patient and family across the many disciplines and professionals required for their care. The nurse navigator acts as the liaison for the patient and family addressing their concerns and questions, and works with program assistants to arrange their various appointments with their providers.
Responsibilities:

1. Communication - Nurse Navigators will ensure that there is continuity of communication between a patient's various care providers (both within and outside the UNCHCS community)
2. Nurse Navigator Continuing Education
3. Patient Care Duties Interviews patients regarding their current health practices, identifies health problems, determines the degree of compliance and problems complying with the prescribed treatment plan, and documents this information in the patient's chart. Analyzes data from patient interviews, chart reviews, and physical assessments to determine patient's nursing care needs including direct care, referral to other departments. Additional duties related to coordinating patient care specifically for the cancer patient. Coordinates scheduling of tests labs, x-rays coordinates consults. Interacts with referring physician's offices for new and ongoing patient care issues.
4. Programmatic Leadership

Other Information
Other information:
Education Requirements:
● Bachelor's degree in Nursing (BSN) from a state-accredited school of professional nursing.
Licensure/Certification Requirements:
● Licensed to practice as a Registered Nurse in the state of North Carolina.
● Oncology Nursing Certification (ONC) within two (2) years of employment. (Must maintain ONC credentials throughout employment.)
● Basic Life Support (BLS) for Healthcare Provider certification
Professional Experience Requirements:
● Two (2) years of nursing experience and one (1) year related experience.
Knowledge/Skills/and Abilities Requirements:

Job Details
Legal Employer: STATE
Entity: UNC Medical Center

Organization Unit: Oncology Navigators
Work Type: Full Time

Standard Hours Per Week: 40.00
Work Schedule: Day Job
Location of Job: US:NC:Chapel Hill
Exempt From Overtime: Exempt: Yes