Did you know UNC Health has Ranked #2 Most Trusted Healthcare Brand in the U.S.? The UNC Health brand was ranked as the #4 healthcare brand in the United States overall and the #2 most trusted healthcare brand, just after Johns Hopkins and before Mass General. Join our One-Great-Team!
Job Description
Description
Become part of an inclusive organization with over 40,000 diverse employees, whose mission is to improve the health and well-being of the unique communities we serve.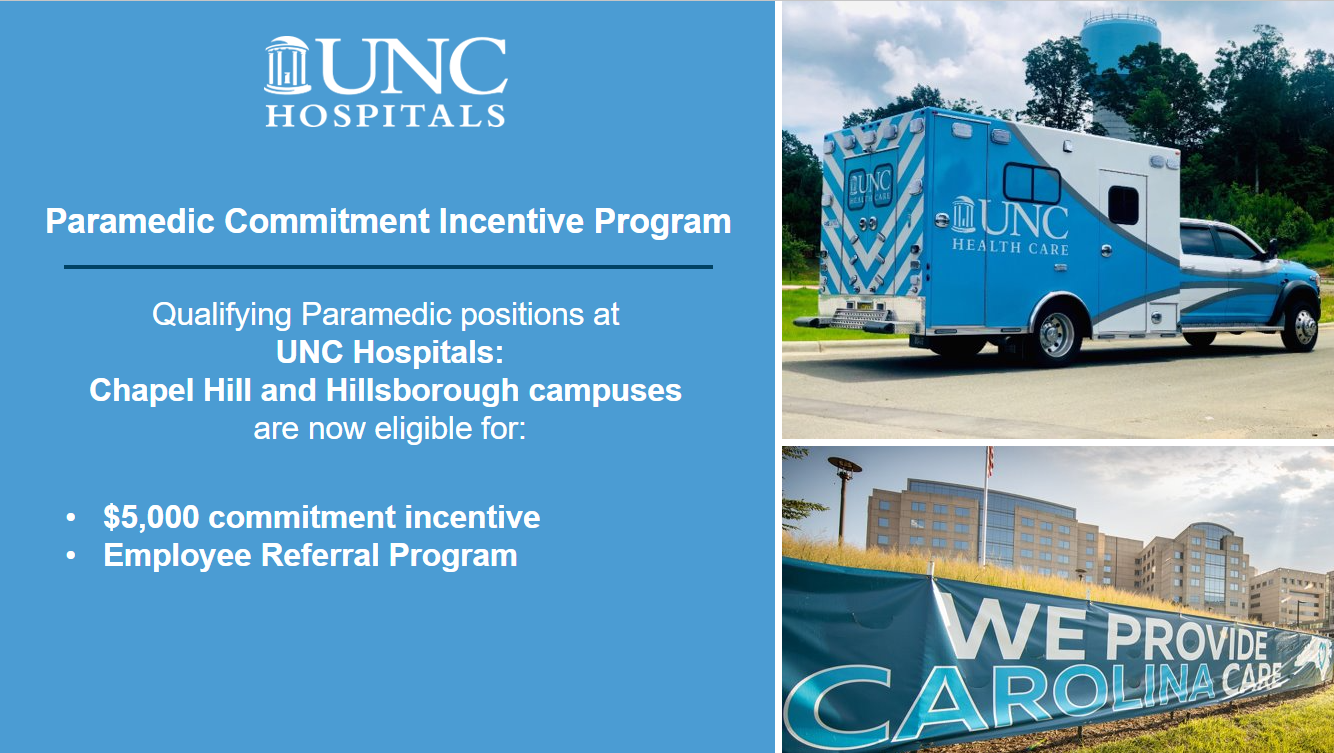 https://jobs.unchealthcare.org/pages/unc-hospitals-paramedic-commitment-incentive-program

Summary:
Provide safe and timely ground transport of patients, while also providing basic and advanced life support care to patients. Work location may be at various base sites throughout central North Carolina and must be able to lift over 50 pounds and carry 80 pounds a distance of 30 feet. Additionally must be able to push/pull over 200 pounds (i.e. patients on beds, stretcher, wheel chair) lateral transfer. Work environment can be spent outdoors and schedule is 36 hours per week; 12 hour shifts rotating. Relocation Assistance Program available for eligible candidates.
Responsibilities:
1. Monitors patient condition during ground transport to provide optimal stabilization.
2. Monitors communication equipment and communicates with dispatch personnel, medical staff, family members and other stakeholders: * Ensures relevant information is collected and proper treatment is administered. * Communicates assessments and plan of care in a professional manner with the appropriate personnel.
3. Documents patients' status, delivery of care and evaluation of the patients' response to care according to unit specific procedures and established protocols.
4. Contacts physicians for guidance, as needed, and follows treatment protocols as described by UNC Hospitals Critical Care Transport Medical Direction.
5. Operates medical and mechanical equipment in the pre-hospital, hospital and transport environment. Ensures all various medical equipment is functioning; restocks medical supplies as needed
6. Obtains direction regarding further care from medical staff. Delivers emergency care, such as CPR, oxygen, bandaging and splinting to patients, in accordance with reestablish protocols under UNC Hospitals Critical Care Transport Medical Direction, if necessary.
7. Participates in plan of care for patients who are acutely ill and require transport from referring institutions.

Other Information
Other information:
Education Requirements:
● High School Diploma or GED
Licensure/Certification Requirements:
● NC Emergency Medical Technician--Paramedic or National Equivalent with ability to obtain NC Paramedic within 30 days of hire
• National Registry Paramedic –Preferred for in-state but required within 12 months of hire|Advanced Cardiovascular Life Support (ACLS) certification|Pediatric Advanced Life Support (PALS) certification|Basic Life Support (BLS) provider certification|ITLS / PHTLS required within one year.|Valid NC Driver's License in good standing or able to obtain prior to start* NC, VA, SC and TN are all acceptable
Professional Experience Requirements:
● One (1) to three (3) years of experience as an EMT-Basic or similar
Knowledge/Skills/and Abilities Requirements:

Job Details
Legal Employer: STATE
Entity: UNC Medical Center

Organization Unit: RDU Ground
Work Type: Full Time

Standard Hours Per Week: 36.00
Work Schedule: Rotating
Location of Job: US:NC:Chapel Hill
Exempt From Overtime: Exempt: No