Did you know UNC Health has Ranked #2 Most Trusted Healthcare Brand in the U.S.? The UNC Health brand was ranked as the #4 healthcare brand in the United States overall and the #2 most trusted healthcare brand, just after Johns Hopkins and before Mass General. Join our One-Great-Team!
Job Description
Description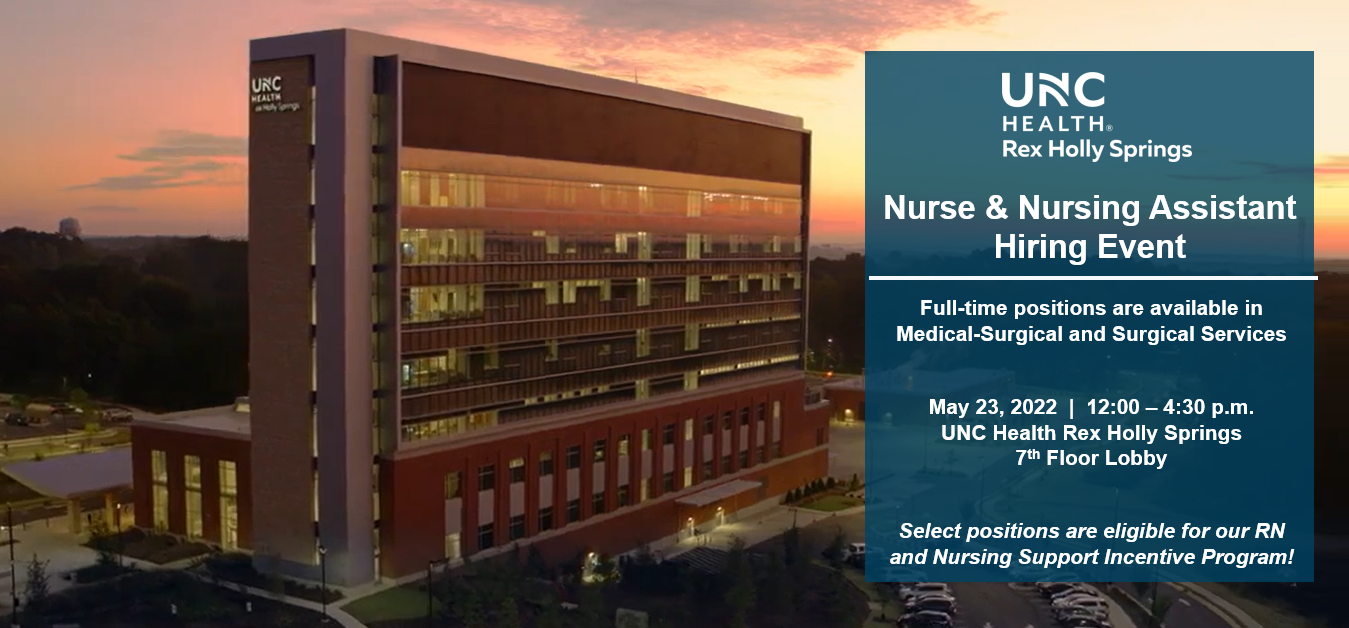 Nurse & Nursing Assistant Hiring Event | UNC Health Rex Holly Springs (5.23.22)
Monday, May 23, 2022 | 12:00 p.m. – 4:30 p.m.
Event location: 850 S. Main Street, Holly Springs, NC 27540
Join the team at our new, beautiful hospital! You could receive an on-the-spot job offer! At this event, you can check out our state-of-the-art facility, meet hiring managers, and learn more about joining our One Great Team.
We are hiring both RNs and Clinical Support Technicians (Nursing Assistants). Participating service lines include:
Surgical Services | full-time days and full-time nights
Medical Surgical | full-time nights
Why join our One Great Team?
· Incentives for Clinical RNs (II, III, and IV): Tuition Loan Forgiveness of up to $25,000 or Commitment Incentive of $20,000 paid over four (4) years or $15,000 paid over three (3) years. Also eligible for Relocation Assistance of up to $10,000.

· Incentive for Nursing Assistants: Commitment Incentive of $5,000 paid over three (3) years.
UNC Health Rex Holly Springs features 100% free parking, advancement opportunities, new technology and equipment throughout the hospital, a new design featuring large windows for natural light, and so much more.
How do I Qualify?
RN Clinical Nurse: Graduation from school of professional nursing; RN license in North Carolina or compact state; BLS certification; One year of nursing experience.

Clinical Support Tech (Nurse Assistant) - High school diploma or GED; listed as Nursing Assistant I with NC Department of Health and Human Services; BLS certification; one year of clerical/customer service experience and six months of nursing assistant experience.
How do I Participate?
Step 1: Submit your application to this requisition before May 19, 2022 by selecting the "Apply Now" button at the top or bottom of this page. Once you submit your application, it will be reviewed by our Talent Acquisition team.
Step 2: After your application has been reviewed, if you qualify for the event, our Talent Acquisition team will call you directly. They will conduct an initial phone screening and discuss available opportunities and interview slots with you.
Step 3: Interviews will be scheduled to take place on May 23, 2022 between 2:00 p.m. and 4:30 p.m.
Walk-ins are welcome. If you would like to participate in the event as a walk-in, please arrive at the address listed below between 12:00 p.m. and 2:00 p.m. and enter through the main lobby. There, you will be greeted by a recruitment representative. Address: 850 S. Main Street, Holly Springs, NC 27540
About UNC Health Rex Holly Springs:
UNC Health Rex Holly Springs is UNC Health's newest hospital that opened on November 1, 2021! Featuring a birthing center, 24-bed emergency department, inpatient laboratory and pharmacy, as well as imaging, radiology, general surgical services and more, we're excited to offer the best Carolina Care to Holly Springs and surrounding communities. Interested in meeting our Rex Holly Springs co-workers and get a virtual tour around our new hospital? Take a look: https://www.youtube.com/watch?v=elQq0AYcsA0
Questions? Please reach out to our recruiter, Neha Mishra at [email protected]