Did you know UNC Health has Ranked #2 Most Trusted Healthcare Brand in the U.S.? The UNC Health brand was ranked as the #4 healthcare brand in the United States overall and the #2 most trusted healthcare brand, just after Johns Hopkins and before Mass General. Join our One-Great-Team!
Job Description
Description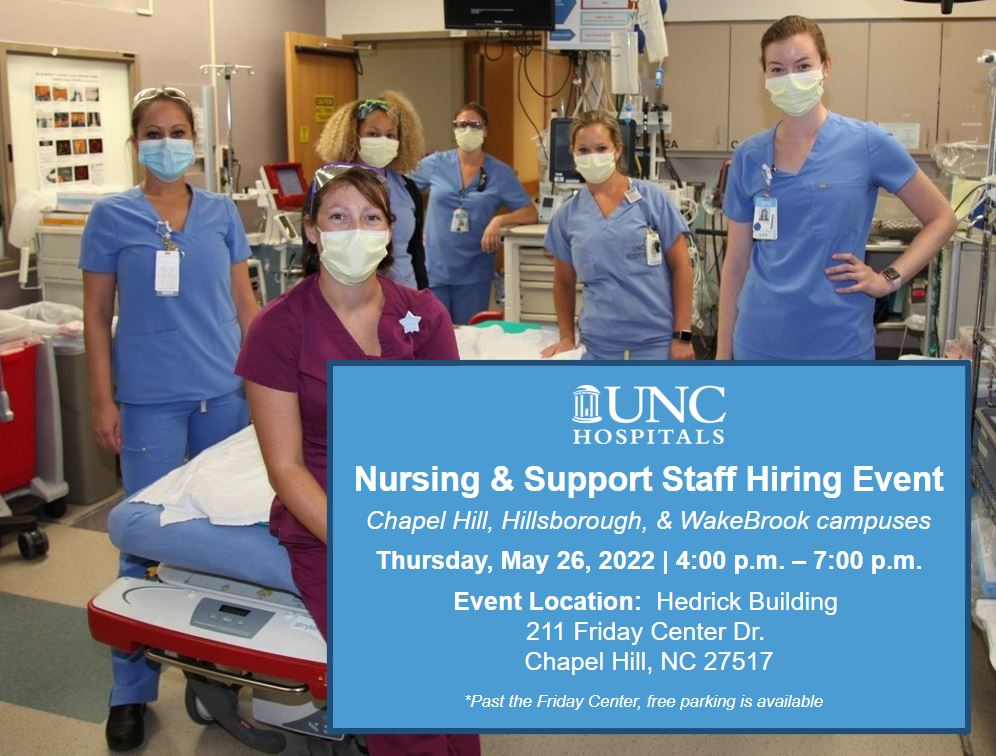 Nursing and Support Staff Hiring Event | UNC Hospitals - Chapel Hill, Hillsborough, and WakeBrook campuses
Thursday, May 26, 2022 | 4:00 p.m. – 7:00 p.m.
Event Location: Hedrick Building, 211 Friday Center Drive, Chapel Hill, NC 27517
*Past the Friday Center, free parking is available
Many positions are eligible for incentives including sign-on bonuses, commitment incentives, tuition loan forgiveness, and relocation assistance.
You will have the opportunity to meet with our Recruiters and interview with department Hiring Managers for full-time, part-time, and per diem positions.
Don't forget to bring a mask and your resume!
Join us for the UNC Health Hiring Event! We're hiring for multiple positions including:
New Graduate and Experienced Nurses
Behavioral Health Techs I & II
Clinical Support Techs I & II
Nursing Assistants I & II
Participating Service Lines include:

Central Staffing Office (FLEX & Float Teams)
Children's Services
Emergency Services
Heart & Vascular Services
Medicine Services
Oncology Services
Psychiatry
Surgery Services
Women's Services
Ready to Participate?
Step 1: RSVP by selecting the "Apply Now" button at the top or bottom of this page.
Step 2: Join us at the Hedrick Building, (211 Friday Center Drive, Chapel Hill, NC 27517) past the Friday Center, on May 26, 2022 any time between 4:00 p.m. and 7:00 p.m.
Free parking is available. Don't forget to bring a mask and your resume!
Why join UNC Health?
· Great State benefit package, including your traditional benefits as well as paternal leave, wellness programs and discounts, State of North Carolina retirement, and career advancement opportunities.
· Tuition Waiver and Academic Assistance.
· Join a leading academic health system that is state-wide in North Carolina.